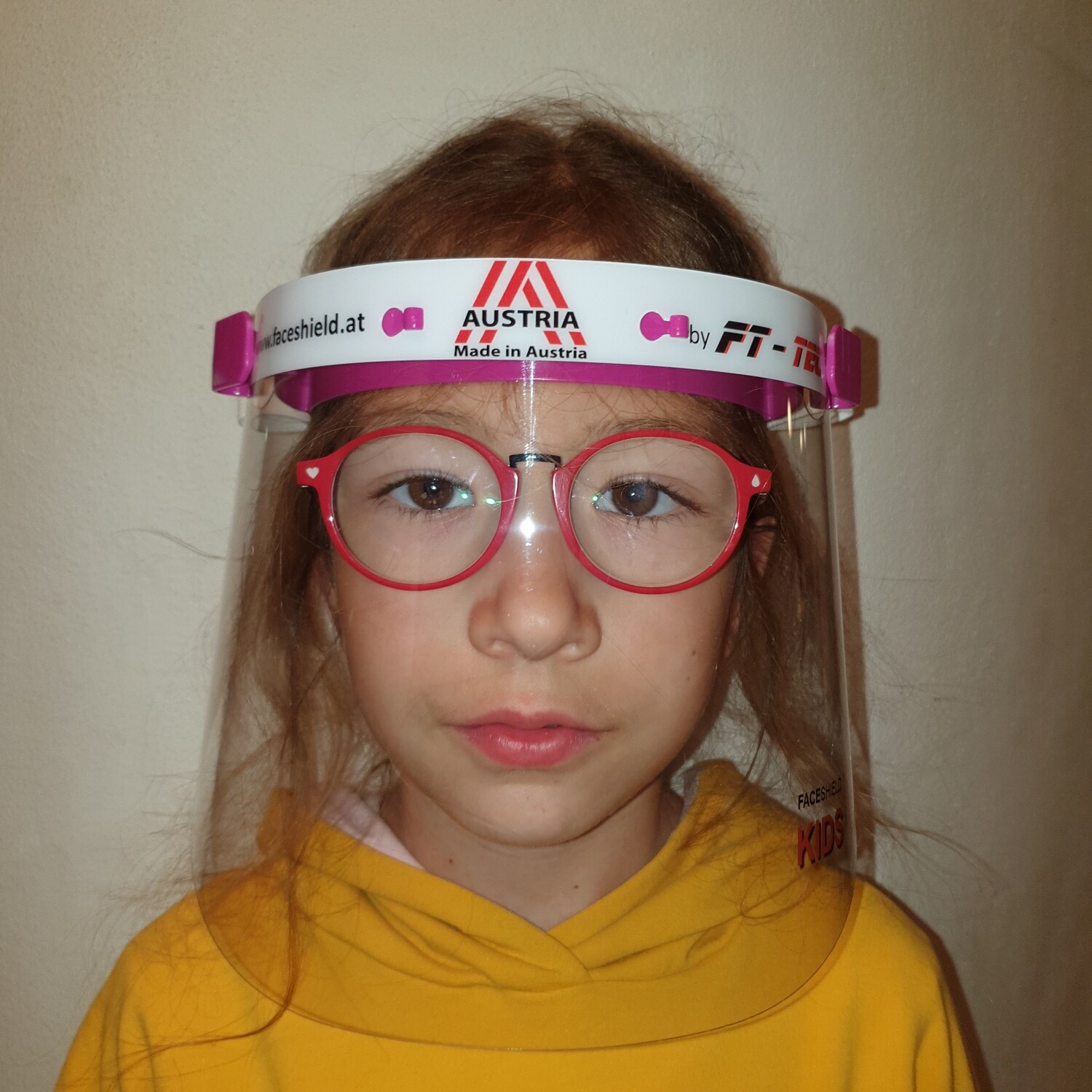 FACEshield Premium for children
SKU 6100118
Product details
FACESHIELD - Made in Austria (guaranteed)
Facial visor against direct droplet transfer.
Protection against direct droplet infection
High wearing comfort due to low weight
Made with high quality injection molding technologies
Also suitable for glasses wearers
Adjustable size with rubber bands
100 % Austrian product
In the fight against Covid-19
Developed and manufactured in Austria by FT-TEC
FACESHIELD - MADE IN AUSTRIA
Face mask to protect against disease transmission through direct droplet infection (e.g. COVID-19). Suitable for men, women, children and glasses wearers to protect face and eyes against direct droplet infection. Light and transparent design, highly elastic transparent film with an extra-wide field of vision, including head mounting system and adjustable rubber band.
Product specifications:
Sign (with protective film - please remove before use) with approx. 395 x 175 mm
highly transparent, does not fog up
Head support system made of high quality injection molding
Elastic band for size adjustment (suitable for children and adults)
extends from the forehead to under the chin
Extremely light for high wearing comfort (65 grams with 0.5mm foil and approx. 80 grams with 0.7mm foil
corresponds to point 4. Work equipment / work outdoors in accordance with WKO guidelines / broadcast RS10 -BLg- trading instructions social partner COVID 19
CE-compliant production, protective screen made of PET-G based on medical guidelines
Areas of application:
For children and children with glasses
Instructions for use and care:
Remove the outer protective film from the label before first use
Press the label onto the head mounting system
Set the desired size with a rubber band
Clean with disinfectant or soapy water after each use
Orders:
Visit our web shop at: www.faceshield.at
Orders over 5,000 pieces by email at: order@ft-tec.com

Youtube video:
Attached is the link to our Youtube for production in Neutal
Note: We, as a company of the FT TEC Group, are not responsible for regulations issued by our federal government. The face shield was thus included on May 1 as an alternative to the MNS.

Save this product for later